So, what can you do to get more positive reviews for your business? Here are some tips.
1. Ask your customers… at the right moment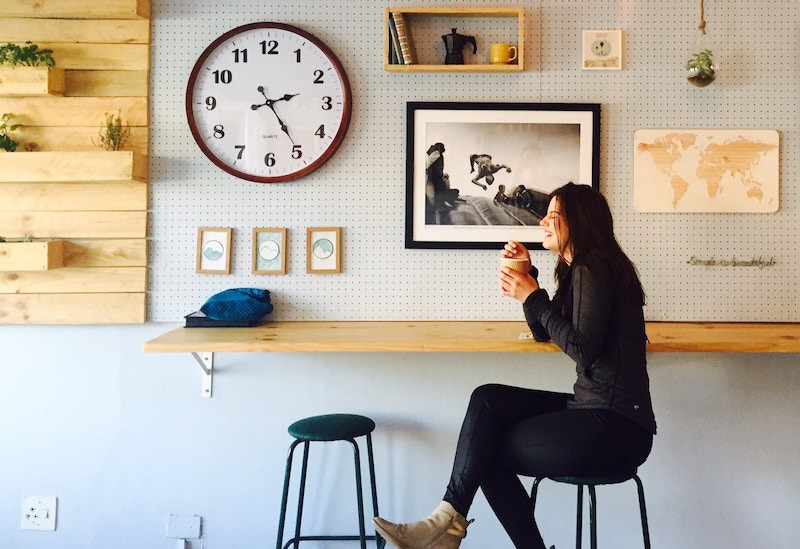 The best way to get more reviews is, well, to ask for them. Happy customers are never annoyed by a request to leave a positive review. In fact, BrightLocal has found that
72% of customers who were asked to write a review, did
! But be sure to make the ask at an opportune time.
Get a compliment over the phone, in person, or in email? Let your customer know you'd be grateful if they shared the same positive feedback on one of the review sites that covers your business (and name some specific review sites).
2. Set up profiles on multiple review websites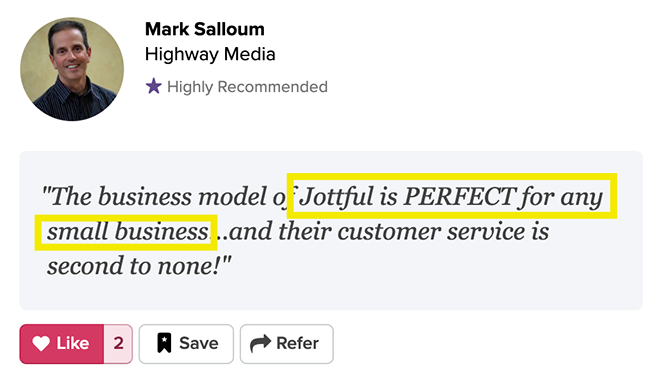 Sure, it's important to feature customer testimonials on your own website, but it's equally important to get reviews on websites that are relevant to your business, such as Alignable, Yelp, Angie's List, Google Places, Yahoo Local, WeddingWire, TripAdvisor, CitySearch, and more. Because these review websites get so much traffic, they often show up at the top of search results. So, make sure your business is present.
💡  WEBSITE INSIGHT: When you get great reviews on these websites, go ahead and re-post them on your own website. You can see an example of this, above. This is a review that a Jottful customer posted on Alignable. Taking a screenshot of the entire review (instead of just copying and pasting the text onto our website) makes it more credible. By highlighting a portion of it with a yellow box, we're drawing attention to what we feel is the most important bit.
3. Establish a strong Google My Business presence

Don't know what Google My Business is? Or haven't updated your profile there lately? It's time to revisit this critical piece of your online marketing! In fact, an average local business's Google My Business listing is viewed 1,260 times each month!
In our interview with Manuel Valencia, business owner at CONNECTIVE Agency, he shared that his 67 five-star reviews on Google My Business have been central to his business's growth. The reviews not only encourage prospective customers to contact him — they also help buyers become aware of his business.
Positive Google reviews can help you show up higher in search results, including on Google Maps, which prioritizes local businesses with positive recommendations.
Learn more in our article and video, 5 tips to maximize your Google My Business listing.
💡  WEBSITE INSIGHT: You can also promote your strong reviews on your own website. At Jottful we're proud of our five-star rating on Google My Business — so proud that we created a badge for our website to draw attention to it. You can see that badge above.
4. Request reviews on your social media profiles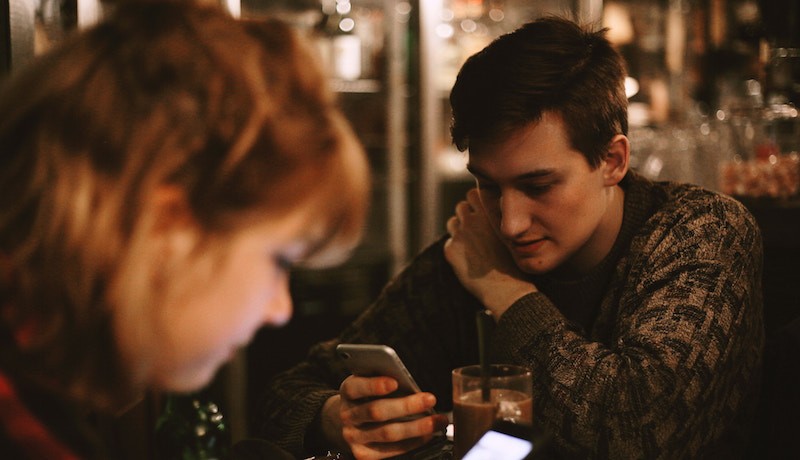 Got a Facebook page? Well, it has a Reviews tab; encourage your fans to post reviews there.
If you're an independent professional, such as a lawyer or management consultant, request recommendations on your personal LinkedIn profile.
And remember, once you get those reviews, go ahead and share them on your own business's website.
5. Drop hints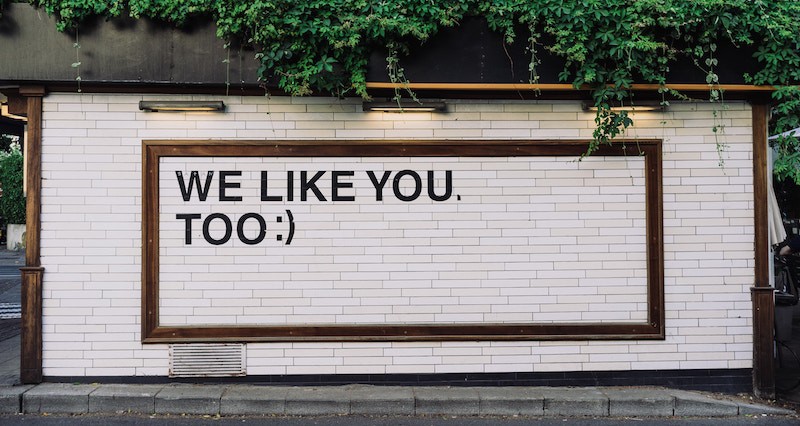 Add links to your review sites in key places, such as the confirmation page or thank-you email after a customer makes an appointment or places an order. Mention that you'd appreciate a review right on your customer payment receipts.
6. Incentivize reviews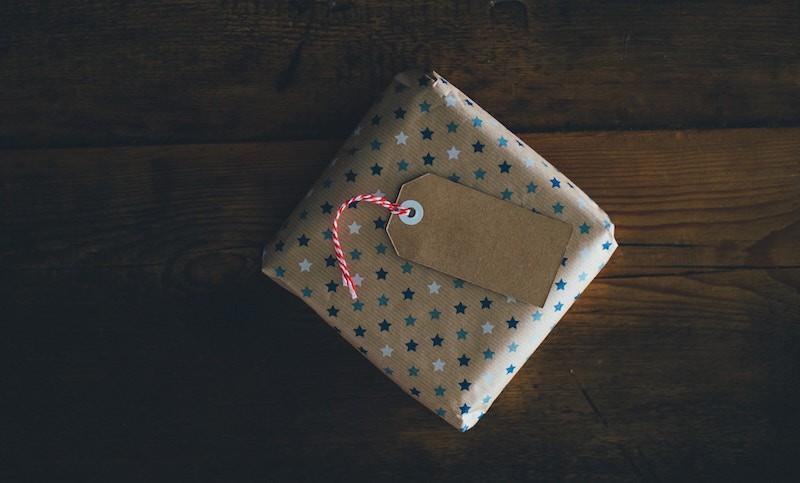 Let's face it, customers who have a negative experience are incentivized to leave a review because they get some satisfaction from doing so. But the rest of us might need a little poking. So go ahead and offer an incentive for people who leave a review.
Share a discount code, send a promo item, offer a gift card. Just be sure to offer the incentive regardless of whether the review was positive or not.
You can also incentivize your employees to encourage customer reviews by rewarding them based on the number of their customers who leave one.
BONUS: Keep your website live & up-to-date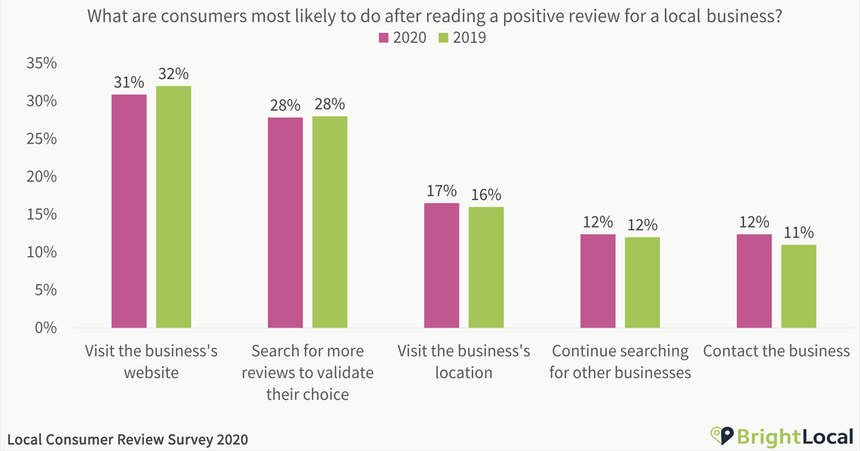 Your website is the first place prospective customers go after receiving a recommendation. That's true whether they heard about you from a friend or family member — or they read your business reviews. Don't miss these qualified, knowledgable leads just because your website isn't ready for primetime!
💡 WEBSITE INSIGHT: There are three ways to get a website for your business: do-it-yourself, do-it-together, or hiring an agency/designer. Learn the benefits and drawbacks of each — and discover the best solution for your business — in this 2-minute video: The Three Ways to Get a Website > 
Positive customer testimonials and reviews are hugely important. What can you do today to increase the number you receive?