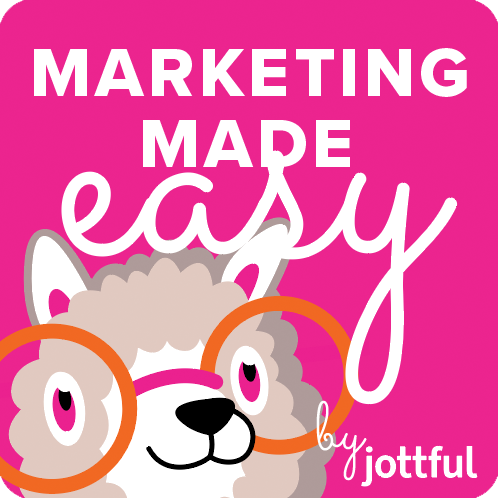 Marketing Made Easy by Jottful is an original video series and podcast for small business owners, entrepreneurs, and freelancers.
In each episode, we hold practical and fun conversations with people who know a thing or two — or three! — about how to get more customers for your business.
Co-hosted by:
Dawn Verbrigghe, Jottful's founder & CEO, former business-school professor, and marketing veteran
Natalie Bruno, Jottful's Customer & Business Development Lead, certified people person, and counselor to small business owners seeking advice for their website and marketing challenges
PRACTICAL SEO FOR BUSINESS OWNERS | Vanessa Salvia
EPISODE 6 | 4 JAN 2021
33 minutes
For most businesses, showing up in search-engine results is critical. The more prominently, the better. But search engine optimization (SEO) often seems complicated, expensive, and ineffective.
Vanessa helps us understand what practical actions we could (and should!) be taking as business owners.
In this episode, Vanessa shares with us:
How search engines decide what to show;
How, as a business owner, you can find the keywords to optimize for;
How long will it take to see results.
Vanessa Salvia is a versatile writer with years of hands-on experience as a journalist, content creator, and marketing strategist. She began learning about SEO 15 years ago while working with a website development agency that specialized in providing services to small businesses. A few years ago, she started her own writing, editing, and business marketing company called Sage Media and Marketing.
In addition, Vanessa has also been an editor and writer for a variety of print and online publications. Now, she uses her skills to help businesses and organizations convey their messages in a clear and compelling way. The SEO work she does is an important piece of that because the concepts of SEO work hand-in-hand with marketing and content creation. When you optimize the content you have, and create new content, you can improve your organic search visibility, website rankings, and traffic.
HOW TO GET THE MARKETING HELP YOU NEED | Elayna Alexandra
EPISODE 5 | 14 DEC 2020
27 minutes
Has the time come to engage a little professional help for your marketing? Making a full-time marketing hire is overkill for most small businesses, but a helping hand can really free up your time to focus on other aspects of your business.
Elayna helps us understand:
What tasks should you get help with — and what should you do yourself?
What should you look for in your first marketing hire?
How can you best manage this person to make them successful?
Elayna Alexandra is a design thinker, certified coach, and marketing strategist. She has a wholesome, creative approach to digital marketing strategy and a talent for zooming in on the essential elements. Elayna has been a business owner for 10 years, working with entrepreneurs, small businesses, and beyond.
Elayna believes the main purpose of marketing is to share your gifts with others, so you have a duty to do a good job so people don't miss what you have to offer.
HOW TO BUILD YOUR BUSINESS BY GIVING | Sheryl Green
EPISODE 4 | 22 NOV 2020
31 minutes
It's difficult to stand out in a sea of similar businesses. Luckily, there is a way that you can differentiate yourself from the competition — while standing up for a cause you believe in at the same time.
In this episode, Sheryl talks with us about:
The benefits of incorporating giving into your business;
How to select the perfect nonprofit partner;
The different types of campaigns you can implement; and
How to evaluate the success of your collaboration.
Sheryl Green is a New York native living and thawing in Las Vegas since 2008. After a devastating divorce, Sheryl discovered the power of storytelling and has brought her love of the craft to fiction, non-fiction, and content writing for businesses.
A passionate animal advocate, Sheryl serves as the Director of Communications for Hearts Alive Village. After years of begging for donations, she learned about Cause Marketing and now helps businesses and nonprofits work together for the betterment of both.
She is the author of four books including "Once Upon a Bottom Line: Harnessing the Power of Storytelling in Sales," and "Do Good to Do Better: The Small Business Guide to Growing Your Business by Helping Nonprofits."
In her spare time, she likes to hike with her dogs and tend to too many houseplants to count.
HOW TO EASILY GENERATE A YEAR'S WORTH OF IDEAS FOR BLOG AND SOCIAL POSTS | Trisha Winter
EPISODE 3 | 19 OCT 2020
31 minutes
Struggling to think of things to write about? Worried that if you start a blog you'll quickly run out of topics?
You know that posting fresh content on your website and showing up on social media is important for brand awareness, but how can you sustain it for the long run? Trisha shows us how to keep coming up with ideas for content.
Trisha Winter is an experienced marketer and former chief marketing officer. She now runs Focused B2B, a company that provides content-marketing services for other businesses. Trisha has always believed that the key to marketing success is being laser focused on your target market, target accounts, and target buying personas.
IF YOU CONFUSE, YOU LOSE
(HOW TO TALK ABOUT WHAT YOU DO) | Preston True
EPISODE 2 | 26 SEP 2020
32 minutes
Does marketing ever feel like a black hole of waste and confusion? Preston shares practical advice about how you can use the StoryBrand method to clarify your messaging — so you can build a marketing-and-sales system that actually works.
After investing thousands of dollars with little results, Preston True grew tired of marketing that was self-centered, confusing, and mediocre. After reading a book that turns conventional marketing on its head, he implemented its simple framework that transformed his business by positioning his client as the hero and him as a guide. In fact, he fell so much in love with the system that he's now certified in the framework, launched a small agency with his wife, and he's here today to share how this framework will help you save time, close more sales, and be 100% confident in your marketing.
HOW TO FINALLY CONQUER EMAIL MARKETING | Emily McGuire
EPISODE 1 | 3 SEP 2020
34 minutes
Emily tells us that for very dollar your business invests in email marketing, you can expect to see $38 in return. It's the highest ROI marketing channel. What could you be doing to take advantage of it?
Emily McGuire is the Owner and Chief Email Marketer at Flourish & Grit: an email marketing and automation studio.
She helps businesses uncover hidden revenue in their email lists by pairing a business' unique customer journey and high-converting copywriting.
With lessons learned over a decade in tech and e-commerce, sending thousands of email campaigns, and earning clients over $80 million in email campaign revenue, Emily loves sharing the time-tested strategies of email marketing done well.
You'll typically find Emily with a cup of coffee in hand because #momlife. When her head isn't in her laptop, you can find her chasing her toddler, reading a book or binging trashy TV.